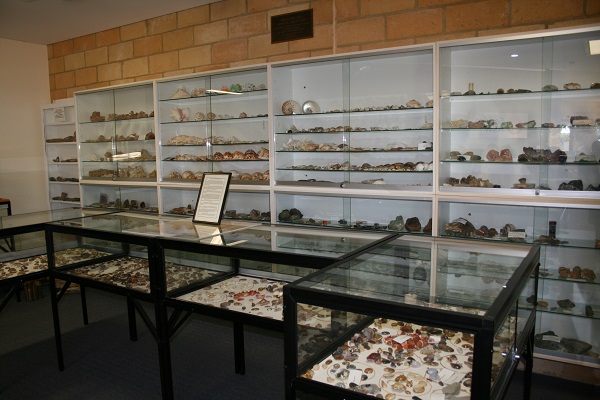 Housed in the Warialda Tourist Office, Wells Gem and Mineral Collection was gathered over a period of many years by the Wells family previously of "Mount View", Warialda Rail and was donated to the people of Warialda and district.
The Warialda Tourist Centre is the fortunate custodian of the Wells Collection of fossils, shells, minerals and gemstones. The fraction of Ivan Wells' collection on display demonstrates his dedication to lapidary, geology, palaeontology, the study of shells, and also his generosity.
Ivan's mineral collection encompasses colourful metallic and crystalline specimens. His substantial assemblage of beautifully crafted lapidary specimens reveals raw minerals' metamorphosis to finished cabochon gemstones including agates, jasper, quartz, many varieties of fossilised wood and his favourite – the Ribbon Stone.
Viewers of the displayed shells may obtain an interesting overview of transitions from one species into one or more different species, from volute shells to Cassia's Helmet then to Hercules Club Shells, or to Tun (barrel) Shells or Scotch Bonnets. Similarly one can see how Olive Shells relate to Cowries, and Spider Conches relate to very different Mitre Shells. More such insights and inferences may arise as Ivan's complete scientifically labelled collection is examined.

Lapidary
The art of lapidary is quite a long process. First there is the fossicking or searching to find the desired 'stones'. They are then cut to shape using a special saw and placed in a tumbling machine, with a lot of other stones, where it is tossed around in water for many hours to wear away the sharp edges and give it a polished surface, such as those displayed in the collection.
Stones suitable for cutting and polishing can be found in freshly ploughed paddocks, for example Agate and Chert, especially after rain in gravel quarries and creek beds, or when rain has washed known fossicking areas so the stone or mineral stands out and is uncovered. The display includes ribbon stone, agate, chert, jasper, quartz and zircon. There is also ancient woods from trees, which become opalised, petrified or ironised, through long periods under the soil. These make attractive pieces.
Palm wood, which has also been found in the area, is rare but popular and sought after to make attractive pieces of jewellery. Opalised wood, as well as petrified and ironised specimens can be found in large blocks, and is particularly prevalent around Warialda.