Cranky Rock turn off is 5km east of Warialda, off the Gwydir Highway, the 3 km sealed road will take you all the way to Cranky Rock where you will find a jumble of giant boulders heaped in the most fantastic positions by a past volcanic upheaval, features include a suspension bridge, birdlife and wildlife sanctuary and, a viewing platform. Facilities include picnic areas, a large shelter with free barbecues, public toilets and a children's playground. There is a full time caretaker and kiosk on site and should you wish to stay overnight or even longer there is a campground with powered/unpowered sites and hot showers available.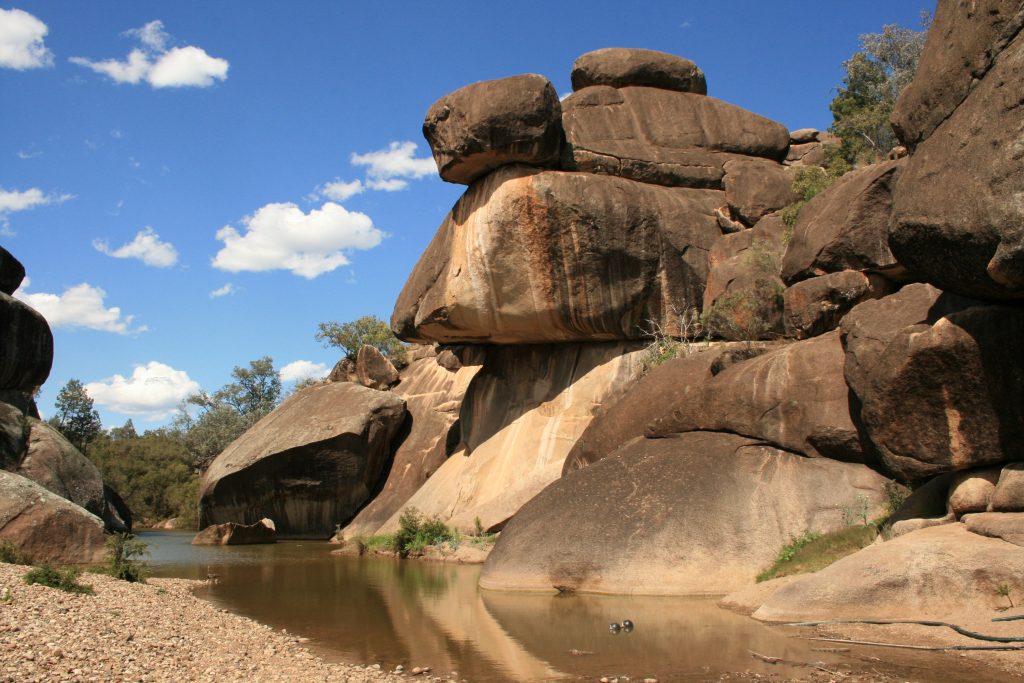 Walking trails are established to suit either an easy stroll or a more challenging walk for the adventurous hiker.The name Cranky Rock was derived from an old legend which said that an old 'Cranky Chinaman' jumped to his death from the highest point of the balancing rocks after being accused of some wrong doing.
Visitors can go fossicking along the creek. Signs of aboriginal life can be seen within the nature reserve amongst the many plant life.
The Cranky Rock Legend
The story of Warialda's Cranky Rock and the Chinaman has intrigued the people of Warialda for generations. No one claims to know exactly what happened, but a legend exists:A 'cranky' Chinese man murdered a Warialda woman – he was chased by the Police and evaded capture by leaping to his death from the high rock. The tale claims that Cranky Rock received its name from the Chinese.It is interesting to compare the legend with written records of the time. The Maitland Mercury 9 January 1875 carried an article from a Warialda correspondent:
I am sorry to have to report a most diabolical murder perpetuated in our midst on Thursday 24th of December. A poor woman living in the town named Mrs. Golthorpe arose early as usual and was making her fire when a Chinaman named Charlie, who has for a considerable time been cooking at Mannix's Race Horse Inn, rushed into the house and stabbed her severely on the head, neck and chest.
She managed to rush down to Mr John Crane's where she was immediately attended to and Dr Redhead sent for. He entertained no hope from the first, as the wounds which were inflicted with a butcher's knife were of such a nature as to prevent all possibility of recovery. The poor creature lingered till Tuesday night, when she died.
A local story claims that Mrs Golthorpe quarreled with the Chinese man Charlie Young after she warned her son not to play cards with him.
The death certificate of Elizabeth Golthorpe shows that she dies on 29th December 1874 and was buried the next day. The Maitland Mercury correspondent wrote:
Immediately on committing the deed, the Chinaman made for the bush, a tracker was at once procured and set out, but on some rocky, bare ridges all tracks were lost. Almost every male in Warialda turned out and scoured the bush all round, but as yet no tidings have been heard of the monster. Had he been taken by any of the search parties, it is doubtful whether he would have ever seen a court of justice, as a very general opinion of Lynch law existed amongst them.The search was a short one. The Police Gazette of 13rd January 1875: Charlie Young, (Chinaman), charged with the murder of Eliza Golthorpe, has been found dead near Gragin Station, 30 miles from Warialda.
How he came to be there, there is no evidence to show.
Cranky Rock Recreation Reserve is an excellent area for those who love to do some bird watching. You'll find a diverse range of species in the area.
Cranky Rock Campground is privately managed on behalf of Gwydir Shire Council and has large shady sites with shower amenities available.
Rates are current to 30 June 2022
Powered Sites
Per night (2 people) $20.00
Per week (2 people) $120.00
Pensioners, per night (2 people) $15.00
Pensioners, per week (2 people) $90.00
Additional Person 12yrs and up – Powered Site – $5.00
Unpowered Sites
Per night (2 people) $15.00
Per week (2 people) $90.00
Pensioners, per night (2 people) $12.00
Pensioners, per week (2 people) $72.00
Additional Person 12yrs and up – Powered Site – $5.00
For more information on Cranky Rock please contact the caretakers on (02) 6729 1402
or the Warialda Information Centre on (02) 6729 0046