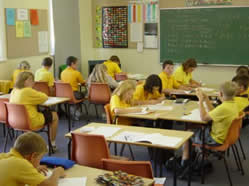 The Warialda area is made up of the township of Warialda and also a number of villages. Gravesend, Croppa Creek and North Star have their own primary schools and are justifiably proud.
Warialda has St Joseph's Catholic Primary School as well as Warialda Public School and Warialda High School.
Gravesend Public School features of the school are the small teacher/student ratio, focus on literacy and numeracy, individual programs and support for the students. Playgroup is held each Wednesday morning – transition program for students entering Kindergarten. Gravesend school has full disability access toilet and shower facilities.
North Star Public School is caring and supportive and provides an enjoyable, stimulating and challenging learning environment.  As a small school, it has a family atmosphere enabling children of all ages to interact and learn from each other.
Croppa Creek Public School is a small, rural school situated in a rich farming and grazing region of the shire. Our vision for the students is that they will acquire skills, values and behaviours that equip them to develop into adults of high integrity, honour, and self esteem. We aim to implement balanced, enjoyable, teaching-learning programs that develop strong foundations in literacy and numeracy, stimulate high creativity, and promote physical coordination and teamwork. Our goal is that the students of Croppa Creek Public School acquire successful work, recreational and adaptation skills necessary for the rapidly changing world in which we live.
St Joseph's Catholic School, opened in 1904 by the Sisters of St Joseph, continues to play a vital role in the education of children in the Warialda area. The current enrolment of approximately 50 students from K to Year 6, enables them to have three full time teaching staff and a number of part time staff. St Joseph's has wheelchair access to the classrooms and school hall and offers opportunities to participate in sports at local, regional and state levels. An active and open P&F Assoc. supports the staff and students to benefit the eduction of Warialda youth.
Warialda Public School, established in 1851, makes it amongst the oldest in the state. The school has an excellent technology network with computers in all classrooms so that technology becomes an integral part of every day learning, taking students from kindergarten to Year 6. Warialda offers students many programs which assist to improve literacy skills including Reading Recovery, Hubbard Street and in class guided reading sessions.  Count Me In and Count Me In Too programs  assist students in mathematics.
Warialda High School community strives to guide students towards independent and responsible citizenship by providing a balanced and relevant curriculum. The school offers the widest possible range of subjects to prepare students for life after school, whether in the work force, at university, or in other training institutions. The school aims to have as many students as possible graduate with the dual accreditation of a Higher School Certificate and Industry Recognised Competencies. The school and the wider community maintain a close and mutually supportive relationship, particularly with regard to sport and vocational education.
Gwydir Learning Region (GLR)
Originally formed in 2000, the Gwydir Learning Region (GLR) has gone from strength to strength, building on the 'can do' attitude in the local community.Winner of the 2006 NSW Training Initiative Award, it is a model for other areas wanting to promote community development, enhance regional development and establish itself as a learning community. The GLR is a committee of Council whose function is to maximise the training and education opportunities for residents of our shire. We do this by working collaboratively with a range of training providers, by nurturing close relationships with local schools and by providing trade training facilities for full-time school students looking for a pathway into a trade.
We have recently become a Registered Training Organisation, specialising in Heavy Vehicle licences, with plans to extend the scope to other courses such as heavy plant.