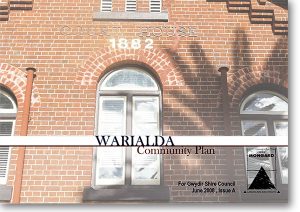 About the Strategy Plan
The Warialda Strategy Plan aims to provide vision and direction for Warialda for both the long and short term.
By focusing on its public spaces: the parks, streets and riverside areas,Warialda can provide the setting and amenity to support future growth. Progressive improvements to the streetscape, in tandem with good planning decisions, can create a renaissance to rival the town's architectural golden era during the 1890's. This placemaking renewal will reinvigorate Warialda as a place for the future, not just of the past.
The Warialda Strategy Plan emerged from a community design and planning process which focused on a community comment and good ideas shop-front, which occurred in a vacant store, next to the toy library on Hope Street, during the period of 14th to the 20th of February 2008. Over 85 people were consulted during the period through the 'Set-Up Shop' process, which included a community
meeting and a series of seperate meetings with special interest groups and an open-shop period of five days when one-to-one discussion and input occurred. People's ideas filled the walls of the
shop to become an emerging display of potential directions.
The Warialda Strategy Plan aims to implement the community's vision through a series of short term physical improvements to the town's public spaces, through further development and strengthening of key town paths and linkages, and with long term planning solutions. The Strategy Plan reflects the communities vision for the vibrant, energetic place thatWarialda will be in the future.
Click here to download Warialda Community Plan (pdf 7MB)