Warialda, part of the Gwydir Shire, has a strong business community. The shire is situated in an excellent, central location to attract manufacturing and other industries as it is approximately 50km from the Newell Highway, 450kms south of Brisbane, 1,200kms north of Melbourne and 640kms north west of Sydney.
Warialda is serviced by supermarkets, hardware shops and suppliers of agricultural products, as well as a range of services such as accountants, bookkeeping, solicitors and doctors. The banking facilities in Warialda include the Regional Australia Bank and in-store Commonwealth Bank facilities at the Post Office. Other banking facilities are available in Moree or Inverell.
With the introduction of broadband internet and improved mobile services, the number of homebased businesses has increased in the area. Satellite connections are available in some rural areas. Several businesses are starting to export innovative products, aqua culture is expanding and some agricultural areas in the north of the shire are thriving whereas other sections are struggling to survive.
Plumbers, electricians, builders, brick layers – in fact, most trades people are in great demand as they are either not available or very difficult to obtain. One of the issues affecting the use of trades people is the shire's proximity to the Queensland border with Queensland trades people unable to practice in NSW due to licence differences.
The lack of trades people, coupled with a strong Vocational Education program in the shire provides an opportunity to upskill local youth with a view to establishing businesses within the shire to service the trades area. Council has recently conducted a Skills Audit to identify gaps in the shire for skills, businesses and services. This information will be used to attract businesses to the shire and identify training needs for long term sustainability.
Considering relocating? Consider Warialda. Click on the images below to enlarge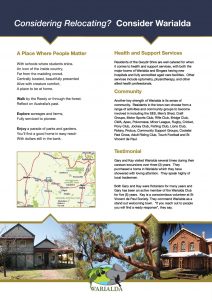 .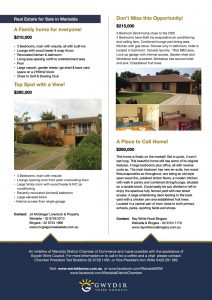 Warialda District Chamber Incorporated meets every second Wednesday of the month at Warialda Golf and Bowling Club at 6.30pm. For further information contact: President: Ted Stubbins 02 6729 1465, Vice: Ann Willis 0428 291 902 or Secretary Bronwyn Sergeant 0457 052 035