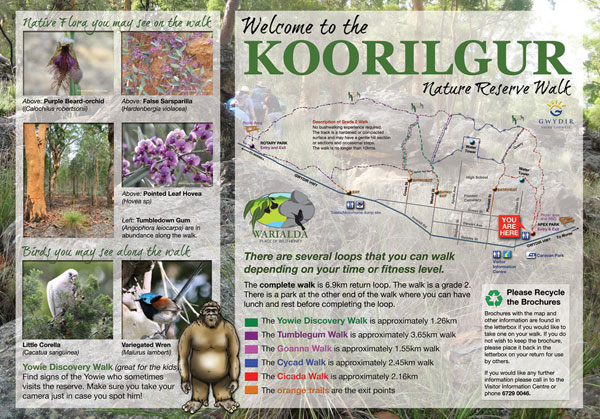 The name Koorilgur is derived from an Aboriginal word meaning low scrub and bush, which is fitting as the walk weaves its way through this type of landscape in the bushland around the southern area of the town. The full walk is 3600m long with exits available providing for shorter walk options.
A wide variety of different wildflowers and native grasses can be seen along the track with many already identified, some of which are quite unique to the area.
Another feature of the walk is the stunning smooth-barked apple, Angophora Leiocarpa, with their smooth trunks which turn a beautiful salmon pink in the spring after shedding their old bark. Nicknamed the "widow maker" by the old timers these trees will often drop a limb even on a calm day.
Wildflowers are abundant in spring and the fauna, although shy, is plentiful for those with a keen eye.
In the interest of preservation of the special features of the area we ask that you follow a few guidelines.
Do not pick the wild flowers
Do not ride motor bikes on the track
Do dispose of refuse thoughtfully
Do keep dogs under control at all times
Do report acts of vandalism to Gwydir Shire Council on 02 6729 3000
The full walk commencing at either Apex Park or Rotary Park is 3.65km long and should take approximately 1hr 30mins to traverse at a comfortable pace. The complete loop is 6.9km There are rest benches located along the walk  and if you prefer a shorter walk there are several loops that you can choose.
The walk is a grade 2 so you don't need any bush walking experience, the track is mostly sand but may have some rough surface and gentle sloping. Walks are no greater than 10kms.
Remember to wear comfortable walking shoes, take water and sun screen with you and avoid the heat of the day in summer. It is also a good idea to let someone know that you are going on the walk. Take your mobile phone, coverage is available along most of the track in case of emergency.
For more information call in to the Warialda Visitor Information Centre or call on 02 6729 0046 or email