The Pioneer Cemetery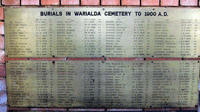 The images of the Warialda Old Cemetery were taken by Robert Tozer on 4 June 2002 and the listing (list of all inscriptions for Warialda Pioneer Cemetery) was compiled by Roma Waldron in August 2006.
This pioneer cemetery was closed to burials about 1900, the new cemetery in Mosquito Creek Road having opened about a decade earlier. After many years of decay and neglect, and under the provisions of NSW cemetery legislation, the pioneer cemetery was converted into a park by the then Yallaroi Shire Council, in the 1970s or 1980s.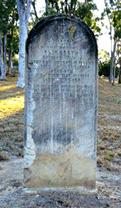 In accordance with the legislation, Council was required to compile a list of all known burials at the site. It did this by recording the remaining legible inscriptions in the cemetery and by reference to the register of deaths maintained by the Deputy Registrar of Births, Deaths and Marriages at the Warialda Court House. Council constructed a memorial wall, pictured above, on which were mounted a number of headstones from the old cemetery, together with a list of deaths registered at Warialda up to and including 1900 of persons believed to have been buried in this cemetery.
The biggest proportion of names on the accompanying list now have no remaining headstones except that their names appear on the memorial wall. Images of the name panels and remaining monuments may be viewed and downloaded from the list of all inscriptions for this cemetery.
How to find it
The cemetery park is located at the southern or top end of Stephen Street at the Queen St intersection.
Administration details
The Warialda General Cemetery is administered by the Gwydir Shire Council.
Contact Council at Maitland Street (Locked Bag 5), Bingara NSW 2404
Phone Bingara: 02 6724 2000 or Warialda: 02 6729 3000
email mail@gwydir.nsw.gov.au

Inscriptions
• The number of inscriptions for this cemetery is 289
• The listing was last updated on 2006-08-27
• The listing was complete as at 2002-06-04
• See the list of all inscriptions for Warialda Pioneer Cemetery.
• Search for a specific family name in all cemeteries.
Updating this information
If you have any suggestions for additions or corrections to this information, please contact Peter Olsen.