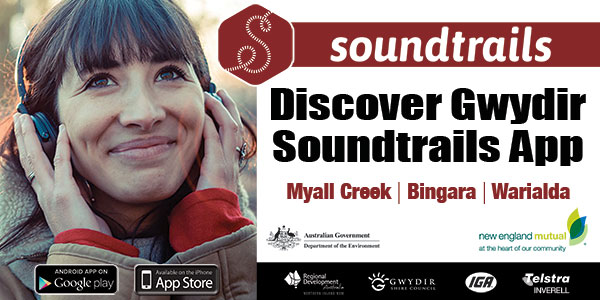 Warialda sits on the crossroads between Inverell, Bingara and Moree in north west New South Wales. A service centre for a predominantly rural farming sector, its stories here suggest that Warialda is also a fascinating historical and cultural marker in Australian history. The town served as a hub on the frontier for bushrangers, convicts and large landholding squatters, and many here today still have a direct line back to that time.
This is a district rich in stories of survival and courage, and of community and friendship. Beautifully produced by award-winning sound producers, the Warialda Soundtrail is a living, breathing doorway into the voices, sounds and music of the people of Warialda.
How to use the Soundtrails app:
Download the app onto your smart phone or iPad, see yourself on a GPS map and walk freely in and out of sound fields; a rich weave of memories, voices, myths and archival footage. With original compositions, local voices, and world class production, Soundtrails truly brings a place alive!
Download the app via www.soundtrails.com.au
2. Download the individual Soundtrail you want to follow
3. Put on your headphones and start walking
If you're on site you can walk in and out of stories as you follow the map on-screen. GPS will track your location so you trigger stories at specific places. If you're somewhere else in the world, listen to stories by touching the pin icons on the map or they can be viewed directly from the site www.soundtrails.com.au
If you are visiting Warialda and would like to do the Warialda Soundtrails but don't have an ipad or smart phone then visit the Warialda Visitor Information Centre and borrow one of the four ipads they have available with Sountrails preinstalled.
Safety warning – While using the Soundtrails App on site, please be aware that your attention may be diverted from dangers of traffic on roads you may be required to cross.