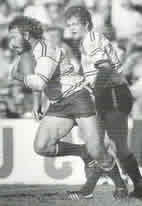 NOEL CLEAL Second Row 1983-1989
A powerhouse centre/second row forward from Warialda. 'Crusher' Cleal first came to prominence playing on the wing for Northern Division against Great Britain in 1979. Noel Cleal had captain-coached Wondai to a premiership in Qld, represented Wide Bay and then Country NSW while playing for Scone. Cleal came to Sydney to play for the Roosters from Sawtell in 1980, playing centre in the grand final loss to the Bulldogs.
He followed coach Bob Fulton to Manly in1983 after Fulton had moved him to the second row. His representative career took off while playing with Manly in the mid-1980s. Cleal represented NSW in 1984 and was runner-up in that year's Rothmans Medal competition. He made his Test debut against NZ the following year and played in three Tests against Papua New Guinea and Great Britain on the 1986 Kangaroo tour before breaking his arm and being forced to return home.


While sometimes critised for his defence, Crusher was given latitude by his coaches to use his strength and size in attack. He played in Manly's premiership win in 1987 before seeing out the remainder of his career with English club Hull. Cleal was Hull's replacement coach in 1991 but despite winning the premiership trophy, was sacked when the dub faltered the following year.
Returning to Australia. Cleal was snapped up by Parramatta as a junior development and recruitment officer with coach Brian Smith publicly acknowledging Cleal's role in helping to mould the team that won the 2001 minor premiership. He returned 'home' to Manly in 2004 to head up the Sea Eagles recruitment campaign. Why did he return? In Crusher's own words : 'I have a tremendous feel for the club; the tattoo of a giant sea eagle on my backside is evidence of that. I am honored to be back, purely because I consider here home.'
Sources: Whiticker & Hudson 2002, p. 96-97;
Website: http://soaringseaeagles.tripod.com/players/cleal.htm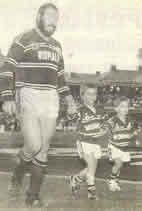 NOEL CLEAL'S PLAYING CAREER

Club Level:
1989 – 90 Hull RL (UK) 31 games 15 tries 1 goal
1985 – 86 Widnes (UK) 16 games 12 tries
1983 – 89 Manly Warringah 121 games 43 tries 10 goals
1980 – 82 Eastern Suburbs 68 games 27 tries 1 goal
1974 – 79 NSW & QLD Country Warialda, Wondai, Scone, Sawtell.
Representative:
1981 – 88 New South Wales 11 games 5 tries
1985 – 86 Australia 8 tests 3 tries
1984 – 88 City 2 games 2 tries
1985 – 87 Country 3 games 2 tries
Career Highlights:
1980 – 83 – 87 Grand Finalist
1984 Runner Up – "Rothmans Medal"
1985 Dally M – Second Rower of the Year
1986 Kangaroo Tour
1987 Premiers Club Captain
1980, 81, 82, 83, 84, 86, 87,88 Semi Finalists
Coaching Career:
1996 Fiji Vs Australia
1996 Warialda, Group 19 – Finalists
Country 1sts – Defeated Sydney,
NSW Residents – Defeated QLD Residents
1994 Warialda U/10's – Runners Up in NSW State All Schools Carnival
1993 Inverell – Group 19 – semi finalists and Northern Division Semi-finalists at CountryChampionships
1991-92Hull R.L (England) • Premiership Winners
1990 Warialda High School Final 16 of "University Shield" (smallest school enrolment in competition)