It's On Again!
The Warialda Honey Festival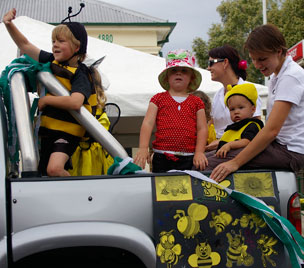 The Warialda Honey Festival is celebrated in November each year and celebrates all that is Warialda.

The Aboriginal meaning of 'Warialda' is 'place of wild honey'. The Honey Festival celebrates not only our town's heritage, but also our current produce, talents and community spirit.
At the Honey Festival each year you will find stalls selling produce such as beeswax candles, jewellery, local arts and crafts, garden products, and locally produced food and conserves. Musical productions are also performed by each of the local schools as well as local dance groups.

There is always a major attraction at each Honey Festival, which in past years has included Helicopter Rides, a Reptile Park, Vintage Car displays

The Festival generally concludes with a parade, in which local community organisations, sporting groups and schools participate by decorating floats to travel down the main street.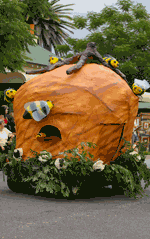 In previous years monies raised by the festival have been donated to our aged care facility, Warialda Primary and High Schools, St Joseph Primary School, Warialda Pre-School, Warialda Playgroup, Westpac Rescue Helicopter and the emergency fund which is used for people with unexpected illness and the staging of the 2009 Community Christmas Tree.
We would like to acknowledge and thank our sponsors Gwydir Shire Council, New England Mutual, Country Energy, Dennis Pinchbeck& Kim McClymont and Gail & Terry Smith as well as the local business and community members for their continued support.
Mark your calendar 17th November 2012 and come along and enjoy a day of fun and entertainment. See the balloon artist and the Gomeroi Dance Dance company perform. Pick up a bargain or unique gift for Christmas which is just around the corner from one of the numerous market stalls.
We are hoping for kinder weather for this years Festival, because if you attended last year you would be well aware that it was rather a warm day but that didn't stop the crowd and we expect this years Festival to be bigger and better than ever, so bring a hat, a smile and join us for a great day out for the whole family.

>> Click here to find out more about honey in Warialda area.

« Go Back to previous page | Go to Warialda Home Page»