EDUCATION in WARIALDA
The Gwydir Shire places a strong focus on learning and has been working for a number of years on innovative educational practices to increase the opportunities for learning in schools and the community.
Facilities include preschools, public and catholic schools, TAFE outreach centres and Vocational Education programs. Warialda has a pre school which operates three days each week
Primary schools in Warialda include St Josephs Catholic School and Warialda Primary School. Primary school education throughout the shire area has also altered over the years due to fluctuating populations tied to the economic outcomes of agricultural areas.
Warialda High School
currently offers Vocational Education Training (VET) to students as young as year 9 and have the highest number of school based traineeships in NSW. VET is also offered through TAFE and ACE (Adult Community Education) for TVET students and adults, so a wide range of courses are available.
Warialda High has won numerous awards in recognition of their students' achievements, winning national WorldSkills awards in hospitality, retail and
business as well as many state finalists in a range of courses.
Warialda High School also has a good academic record in the HSC with many students going on to tertiary education, so education levels in the shire have improved.
Warialda High draws students from the township of Warialda as well as surrounding villages and towns up to 80 kilometres away.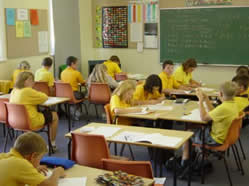 Students from Bingara Central School complete their senior years at Warialda High.In seeking to develop such students, the provision of a broad based curriculum continues to be a priority.
The school offers the widest possible range of subjects for life after school, whether in the work force, at university, or in other training institutions. A committed School Council and an active Parents and Citizens Association provide a positive input into appropriate decision making processes.
Gwydir Learning Region (GLR)
Originally formed in 2000, the Gwydir Learning Region (GLR) has gone from strength to strength, building on the 'can do' attitude in the local community.
Winner of the 2006 NSW Training Initiative Award, it is a model for other areas wanting to promote community development, enhance regional development and establish itself as a learning community.


Visit the GLR website >>